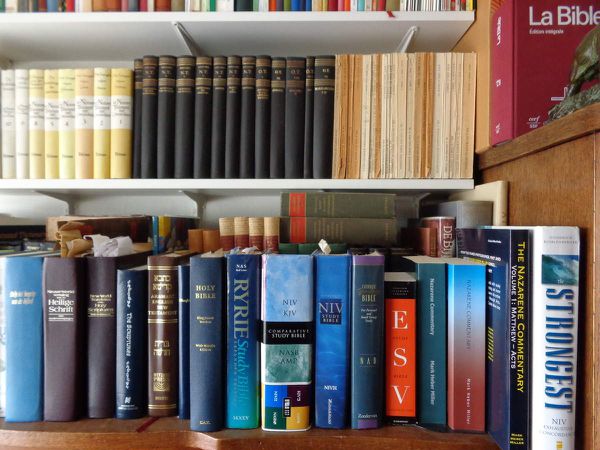 Bible Best book of books to get to know Jesus
People interested in knowing more about Jesus Christ we would recommend to go looking for the best answers in the Book of books, the bible, which is given to mankind by the Divine Creator Himself.
The world has to know it is God's glory which is on tour in the skies of the universe. When we look around us we should be able to come to find the Maker behind it all. He is the One and Only God Who crafts on exhibit across the horizon day after day. The One and Only Who is the Worthy Master should be our God! In the Book of books we shall get to see Who that Spirit really is Who has to take the glory, the honour, the power.
It is the God of gods, the heavenly Father of Jesus Who created it all because He wanted it. And everything came into being because that God of gods spoke words. By His speaking everything came into being. Throughout the ages God has spoken many words. But we should be much aware what it means when He said He is our God, who brought His people out of the land of Egypt, out of a life of slavery. We should know that is was no other god than Him, the only One Who is One and no other is like Him. It is that God the Master Who reached out; touched the mouth of many men of God so that they could write down the Words God gave them to write down for further generations.
Some two thousand years ago there was a man in Israel of whom many did not want to believe that he was the send one from God, in unity with his heavenly Father, who did not speak his own words but the words of the Father Who was with and in him. We should know that those words Jesus spoke were not mere words, which he did not make them up on his own. The Father who resided in him crafted each word into a divine act. We also should know that salvation is more than words from Jesus or from somebody else. It is even more than the Words of God.
When we do have God's Word, in the Bible we not only have to read it, but should also apply it.
Learn how to apply them. You'll need them throughout your life. God's Word is an indispensable weapon. (Ephesians 6:17)
"1 And God speaketh all these words, saying, 2 'I [am] Jehovah thy God, who hath brought thee out of the land of Egypt, out of a house of servants. 3 'Thou hast no other Gods before Me." (Exodus 20:1-3 YLT)
"Thus said the Lord Jehovah: It doth not stand, nor shall it be!" (Isaiah 7:7 YLT)
"And Jehovah putteth forth His hand, and striketh against my mouth, and Jehovah saith unto me, 'Lo, I have put my words in thy mouth." (Jeremiah 1:9 YLT)
"Believest thou not that I [am] in the Father, and the Father is in me? the sayings that I speak to you, from myself I speak not, and the Father who is abiding in me, Himself doth the works;" (John 14:10 YLT)
It is by studying the Word of God, the Bible that we shall come to understand how everything is and who everybody is and what they mean for mankind. By reading those ancient books we also shall be able to come to know who and what Jesus Christ is, the Son of God. We shall be able to see why he came so we could recognize and understand the truth of God — what a gift!—and how we have to live in the Truth itself, in God's Son, Jesus Christ. He continued the work of the other prophets God had sent to the world to show Who God really is and what He wants from His people.
Jesus also worshipped that God, the God of Abraham, Who had sent Him and Whose Name should be known all over the world. This Strong God, Without Jesus could do nothing His Holy Name Jehovah, The One Who is the Being, the I am that I am and is (the I-Am-Present) was not known to many but should be known to lots of people.
"2 And God speaketh unto Moses, and saith unto him, 'I [am] Jehovah, 3 and I appear unto Abraham, unto Isaac, and unto Jacob, as God Almighty; as to My name Jehovah, I have not been known to them;" (Exodus 6:2-3 YLT)
In the Bible it is this God, the God of Isaac, Jacob, Jesus, the apostles and Who should be our God, Who is speaking to you and all people. He has a plan for you and wants you to worship Him and trust Him. Good ones and bad ones are called by Him. Everybody might hear His Voice. The only request by God is that people would listen to His Voice and start living according His statues, rules and regulations. All His commandments can be found in the Bible, which is a book to help us build up our life.
It is the best book to train Christians in skilled servant work, working within Christ's body, the church, until we're all moving rhythmically and easily with each other, efficient and graceful in response to God's Son, fully mature adults, fully developed within and without, fully alive like Christ.
"'Worthy art Thou, O Lord, to receive the glory, and the honour, and the power, because Thou — Thou didst create the all things, and because of Thy will are they, and they were created.'" (Revelation 4:11 YLT)
"11 and He gave some [as] apostles, and some [as] prophets, and some [as] proclaimers of good news, and some [as] shepherds and teachers, 12 unto the perfecting of the saints, for a work of ministration, for a building up of the body of the Christ, 13 till we may all come to the unity of the faith and of the recognition of the Son of God, to a perfect man, to a measure of stature of the fulness of the Christ, 14 that we may no more be babes, tossed and borne about by every wind of the teaching, in the sleight of men, in craftiness, unto the artifice of leading astray," (Ephesians 4:11-14 YLT)
Above all and before all, we do have to look for God and should try to get Wisdom. Knowledge of God, understanding and the wisdom of the truth should be written at the top of your list.
We have this Scripture text: No one's ever seen or heard anything like this, never so much as imagined anything quite like it—What God has arranged for those who love him. We should open our mind and be prepared to let God enter in our spirit, hearing God's Spirit, who wants to make everything clear. It is God by his Spirit Who has brought it all out into the open before you. The Spirit, not content to flit around on the surface, dives into the depths of God, and brings out what God planned all along.
The unspiritual self, just as it is by nature, can't receive the gifts of God's Spirit. There's no capacity for them. They seem like so much silliness. Spirit can be known only by spirit—God's Spirit and our spirits in open communion. Spiritually alive, we have access to everything God's Spirit is doing, and can't be judged by unspiritual critics. Therefore we do have to have an open mind, a willingness to take up the Holy Scriptures to learn from them and to use them for our education to get more insight in the Ways of God and to absorb the knowledge of the Truth so that we can start living accordingly.
"9 but, according as it hath been written, 'What eye did not see, and ear did not hear, and upon the heart of man came not up, what God did prepare for those loving Him — ' 10 but to us did God reveal [them] through His Spirit, for the Spirit all things doth search, even the depths of God," (1 Corinthians 2:9-10 YLT)
"14 and the natural man doth not receive the things of the Spirit of God, for to him they are foolishness, and he is not able to know [them], because spiritually they are discerned; 15 and he who is spiritual, doth discern indeed all things, and he himself is by no one discerned; 16 for who did know the mind of the Lord that he shall instruct Him? and we — we have the mind of Christ." (1 Corinthians 2:14-16 YLT)
The mystery is that people who have never heard of God and those who have heard of him all their lives (what I've been calling outsiders and insiders) stand on the same ground before God. They get the same offer, same help, same promises in Christ Jesus. The Message is accessible and welcoming to everyone, across the board.
"5 which in other generations was not made known to the sons of men, as it was now revealed to His holy apostles and prophets in the Spirit — 6 that the nations be fellow-heirs, and of the same body, and partakers of His promise in the Christ, through the good news," (Ephesians 3:5-6 YLT)
The main thing to keep in mind here is that no prophecy of Scripture is a matter of private opinion. And why? Because it's not something concocted in the human heart. Prophecy resulted when the Holy Spirit prompted men and women to speak God's Word.
"20 this first knowing, that no prophecy of the Writing doth come of private exposition, 21 for not by will of man did ever prophecy come, but by the Holy Spirit borne on holy men of God spake." (2 Peter 1:20-21 YLT)
"that their hearts may be comforted, being united in love, and to all riches of the full assurance of the understanding, to the full knowledge of the secret of the God and Father, and of the Christ," (Colossians 2:2 YLT)
Every part of Scripture is God-breathed and useful one way or another—showing us truth, exposing our rebellion, correcting our mistakes, training us to live God's way. Through the Word we are put together and shaped up for the tasks God has for us.
"16 every Writing [is] God-breathed, and profitable for teaching, for conviction, for setting aright, for instruction that [is] in righteousness, 17 that the man of God may be fitted — for every good work having been completed." (2 Timothy 3:16-17 YLT)
Each man has to look into his own heart and check if he wants to prefer to listen to the words of man or to the words of God. Man created many ideas, thought and philosophies. They also created lots of doctrines to mislead and to please man, often so that they could keep to traditions and keep up with worshipping gods in their own manner and not in the way God wants us to worship only Him and nobody else.
When the apostles got the Message of God they started to preach and others didn't pass it off as just one more human opinion, but you took it to heart as God's true word to us, which it is, God himself at work in those believers.
"Because of this also, we — we do give thanks to God continually, that, having received the word of hearing from us of God, ye accepted, not the word of man, but as it is truly, the word of God, who also doth work in you who believe;" (1 Thessalonians 2:13 YLT)
Even if it was written in Scripture long ago, you can be sure it's written for us. God wants the combination of his steady, constant calling and warm, personal counsel in Scripture to come to characterize us, keeping us alert for whatever He will do next. We also should know that God's Words written down in the bible are all warning markers. We should take them as a 'danger sign', getting us to see what mistakes were taken in the past and which mistakes we should not make. Our positions in the story of mankind are parallel—they at the beginning, we at the end—and we are just as capable of messing it up as they were.
"for, as many things as were written before, for our instruction were written before, that through the endurance, and the exhortation of the Writings, we might have the hope." (Romans 15:4 YLT)
"And all these things as types did happen to those persons, and they were written for our admonition, to whom the end of the ages did come," (1 Corinthians 10:11 YLT)
When we study the bible we shall come to see who is who and when we hang on to these words for dear life, we shall come to see how these words shall hold us up in bad times and how God His promises rejuvenate those who believe in Him and in His send one.
"49 [Zain.] Remember the word to Thy servant, On which Thou hast caused me to hope. 50 This [is] my comfort in mine affliction, That Thy saying hath quickened me." (Psalms 119:49-50 YLT)
"7 The first thing [is] wisdom — get wisdom, And with all thy getting get understanding. 8 Exalt her, and she doth lift thee up, She honoureth thee, when thou dost embrace her. 9 She giveth to thy head a wreath of grace, A crown of beauty she doth give thee freely." (Proverbs 4:7-9 YLT)
"The heart of the intelligent seeketh knowledge, And the mouth of fools enjoyeth folly." (Proverbs 15:14 YLT)
"'And that sown on the good ground: this is he who is hearing the word, and is understanding, who indeed doth bear fruit, and doth make, some indeed a hundredfold, and some sixty, and some thirty.'" (Matthew 13:23 YLT)
"and of perfect men is the strong food, who because of the use are having the senses exercised, unto the discernment both of good and of evil." (Hebrews 5:14 YLT)
An intelligent person is always eager to take in more truth; fools feed on fast-food fads and fancies. With this in our mind we should make the right choice and go for looking for the truth, in the knowledge that there can only be one fully truth, which is the Truth of God.
We should take good counsel and accept correction—that's the way to live wisely and well. (Proverbs 19:20)
Think it over. God will make it all plain. Fix this picture firmly in your mind: Jesus, descended from the line of David, raised from the dead. It's what people could hear from the apostle Paul so that many could know that the Son of God came so we could recognize and understand the truth of God.
"Hear counsel and receive instruction, So that thou art wise in thy latter end." (Proverbs 19:20 YLT)
"7 be considering what things I say, for the Lord give to thee understanding in all things. 8 Remember Jesus Christ, raised out of the dead, of the seed of David, according to my good news, 9 in which I suffer evil — unto bonds, as an evil-doer, but the word of God hath not been bound; 10 because of this all things do I endure, because of the choice ones, that they also salvation may obtain that [is] in Christ Jesus, with glory age-during." (2 Timothy 2:7-10 YLT)
"and we have known that the Son of God is come, and hath given us a mind, that we may know Him who is true, and we are in Him who is true, in His Son Jesus Christ; this one is the true God and the life age-during!" (1 John 5:20 YLT)
"2 for kings, and all who are in authority, that a quiet and peaceable life we may lead in all piety and gravity, 3 for this [is] right and acceptable before God our Saviour, 4 who doth will all men to be saved, and to come to the full knowledge of the truth;" (1 Timothy 2:2-4 YLT)