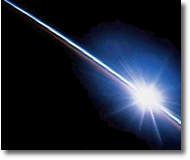 At last we did find a good place to bring regular postings in a handy format and easy way.
We would like to invite you to bring us a visit to find more writings introducing Christ Jesus, not afraid to go way back in history looking at what happened in history and what man did with their relationship with God and with the promise which was given in the Garden of Eden.
To get to know Christ we first have to find him placed in history and have to look at the very beginning of this personality. Therefore we even have to go back to the entire beginning of the universe when chaos was the rule.
It was from the nothingness and chaos that order came into existence.From waste and void coming into being by God's Word we have to notice that it was the sound which came into space that gave meaning and placed things, dividing darkness, waters and land. From nothingness came something. What was not there was called to be there by the Most Divine Supreme Being and it was there to be there as long as This Creator Divinity allowed it to be there.
Many years later when chaos had become ordered man started writing down what had happened in the past. We do have those writings from old times at our disposal and should use them to get the right idea of what happened in the past and to get to know what that Supreme Being wanted to do and what He wants from us.
In those writings, we call the Holy Scriptures or Bible we can find more about everything coming into being. The first book in the series or Library (Bible) tells us about Creation and Creator Deity. those texts from old times are Written to recognise the Promised One.
In the first articles we also look at How Many Persons Created the Heavens and the Earth.
Many people do think there were several persons involved. Lots of Christians also do think Jesus was already there being a co-worker and co-maker of that universe. But is that really so? We look at it.
What is important to understand the Holy Scriptures is to have a knowledge of language use. We also do have to know in which form people speak. Too many Christians do seem to forget that high persons speak in the pluralis majestatis or Royal we. As God considers Himself as the Most High, He naturally would use this form like any king, director or high person would use it. > Pluralis Majestatis in the Holy Scriptures
To understand what happened in the world and which position Jesus got we do have to look at the very very beginning and should be wondering if there where really some Creating Gods.
Those who want to believe in Christ Jesus should also not be afraid to face the world with its science. Genesis 1 story does not take away an evolution.
Many people are also afraid that they may not have doubts or queries when becoming a Christian. But we are all human and are full of questions. Better find an answer in Are people allowed to have doubts + Science, scepticism, doubts and beliefs
So, please do find also following articles: